I've finally fulfilled a childhood dream and I now own a Maserati.
It's a 4200 Gransport in pearl white and a, well, um, "challenging" interior. Then again, it seems a lot of GranSports are a like this... I suspect those who have been watching the market will know which one it is.
At this point I would like to say that Dan at Lake End Autos was a pleasure to deal with and I'm very happy with the car. If you're reading this Dan, thanks again.
I collected it today which was a 400mile round trip, so I don't have any pictures of it as yet. I hope to give it a clean tomorrow and take some then.
It's not been easy finding a car that I felt comfortable buying. I think my Dad and I have travelled well over 1,200miles and looked at 6 different cars; 4 x 4200 and 2 GranSports, before settling on this one. Part of the problem has been my budget is a little higher than most 4200s but not high enough for a Gransport and it's a GranSport that I really wanted.
For those wondering, I did have a look at this one;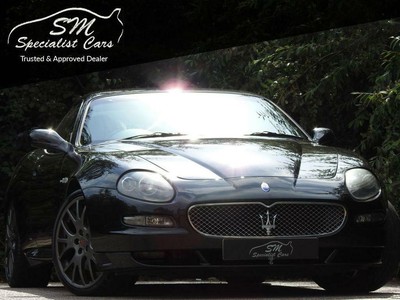 Find many great new & used options and get the best deals for 2004 54 MASERATI GRANSPORT 4.2 V8 2D AUTO 396 BHP at the best online prices at eBay! Free delivery for many products!
And I would advise anyone considering it to proceed with caution it is wearing some signs of accident damage. I would also check the MOT history advisories and question whether any work has been undertaken between the 2 latest MOTs - For example, it failed on worn out front tyres and then passed with an advisory...
Anyway, moving on.
I have a couple of noobie questions perhaps someone could help with please?
1. Gearbox pump relay. I understand these are marginal in terms of their capacity, that it is good practice to replace them regularly to avoid the pump burning out, and that there is a solid state relay that is a a much better option.
Where is the relay located?
Where can I get the solid state relay from (It's a Ferrari part, I think?), Eurospares? That being the case, does anyone know the PN?
2. On the way home I noted that the drivers door would groan or wheeze every so often. I'm thinking it could have been the door glass dropping and then being lifted by the system that drops it when you open the door. Is this a known issue? Is the usual trick of pressing and holding the window buttons up and down likely to fix it?
Thanks in advance.