Looking at the pistons a number of things stand out to me.
1. The crown in the original pistons had valve cutouts and the new, while appearing to be the same dimensions don't. This could mean that the piston crown height is not the same.
2. The infilled section of the piston crown does match the combustion chamber shape of the head. The intention of these steps are to create squish which aids the mixing of fuel and air to improve combustion. Without the same shape on the piston this won't happen, and supports what he is saying.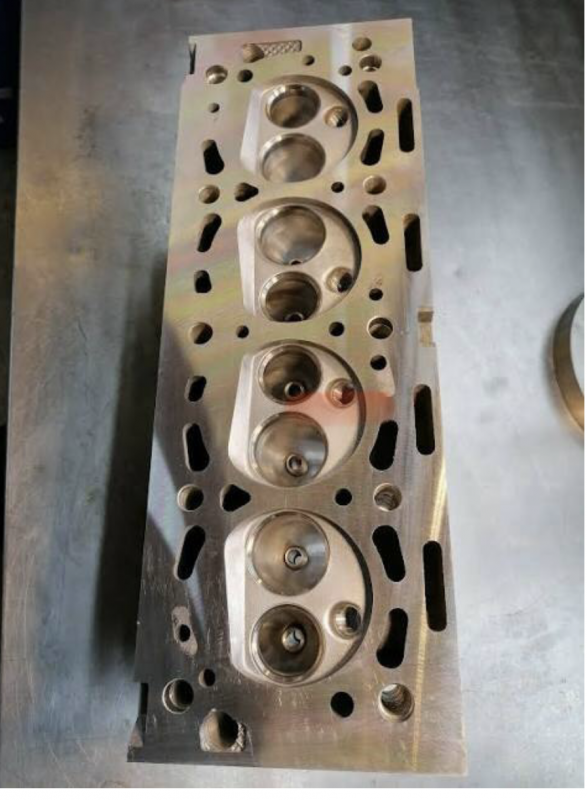 In terms of massive assumptions, you could say:
a: if there are no cutouts, this piston isn't getting very close to the head, compared to the originals
b: I imagine the rolling road man said it was difficult to get the fueling right. As the lack of squish was messing with the mixing in the chamber
c: the engine man has used your engine to try an alternative piston, and has not got the result he wanted.
In any event, if you employed him to deliver an engine that both works and makes a certain amount of power, and made no decisions as to the parts used, then the responsibility is clearly his. How you enforce that is the next, and more difficult, question.
If you buy new pistons, you will actually make the process of determining blame more difficult. I would tell him that in your opinion, you have yet to receive an acceptable product from your original instruction, and you are willing to accept another attempt at rectification within a given timescale. If he is unwilling to do so, tell him you will take the engine elsewhere and reserve the right to claim the cost of rectification from him.