Gentleman, as many of you may know there is an issue with the aluminium coupling the secures the oil pipe that delivers oil from the oil tank to the dry sumped F136 engine. Many of the aluminium couplings have shown the typical onset of dissimilar metal corrosion as they age. This due to the aluminium reacting with the brass/copper connection. Some have been known to fail, resulting in a total loss of oil and potential demise of the engine. Many also suffer from fatigue due to some mechanics using it to drain the oil from the sump, see below.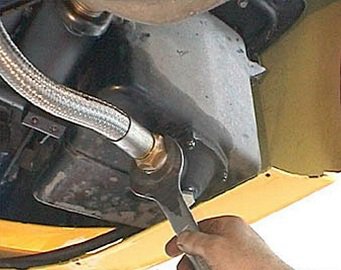 ​
If detected early enough the whole oil pipe can be replaced, but this is not an easy job. Typically, resulting in a bill of around £800-1000. The oil pipe would cost around £290 from the supplier and the job to remove the old pipe and install the new takes around 6 hours as the oil pipe connects to the rear of the engine and takes an arduos route. Not a simple job for the professional mechanic nevermind the enthusiastic diyer. The replacement of the oil pipe, for a like for like, Maserati/Ferrari part will not eradicate the issue as you have just fitted another ticking time-bomb. See the diagram below, the pipe is item 24 and the nut in question is captive and on the left hand end.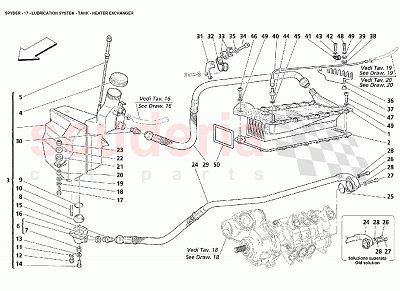 ​
However, Maverick has designed and created a solution that will overcome both issues of replacement and dissimilar metal corrosion. He designed a split nut solution that allows fitment in around an hour, with the original pipe still attached at the other end. Also it being made from brass will not corrode.and is far sturdier of the original connection was quite flimsy, I'm surprised Maserati/Ferrari allowed such a part to be fitted. Not one of their finer moments in my opinion.
Maverick fitted a prototype to his 2002 Coupe and I've fitted another to mine. Maverick has since sold his 4200 a year ago but mine has been on for over a year now and I have had no issues whatsoever (All leaks are from the top end!). So now we're looking at producing a small number, dependent on demand, to the wider community. They are as shown in the pictures below.
If we can get around 30 nuts made up we're looking at around £200 for the nut, thread lock, a clear set of instructions and sent to your destination of choice (UK only). We will look at distribution to Europe, Australia, NZ and the USA etc on an individual basis. Obviously, the final cost depends on demand.
So please append you name below and whether you are UK based or not.
Thanks MLC and MVK